Wild Cattle Creek Restaurant
The restaurant at Wild Cattle Creek offers modern Australian dining. Utilizing fresh local produce along with premium international products, our chefs promise you a dining experience you will not forget.
Wild Cattle Creek Restaurant
Wild Cattle Creeks' dining options range from sun bathed Deck, the Verandah overlooking the vines, picnicking under the Oak trees or by the Lotus Pond or more formally in our dining room with floor to ceiling windows overlooking our gardens and vines, and a grand open fireplace. Our Chef sources fresh ingredients locally like wild olives, fresh trout, garden herbs and cheeses. He  visits the markets to bring fresh seafood to prepare to give you the best Victoria has to offer. With a menu that ranges from much loved favourites like Oysters Kilpatrick and some of the best beef available from premium suppliers Gamekeepers and Flinders, to more adventurous dishes from cuisines around the globe. Bookings are essential and our kitchen are happy to modify dishes to accommodate your specific dietary requirements.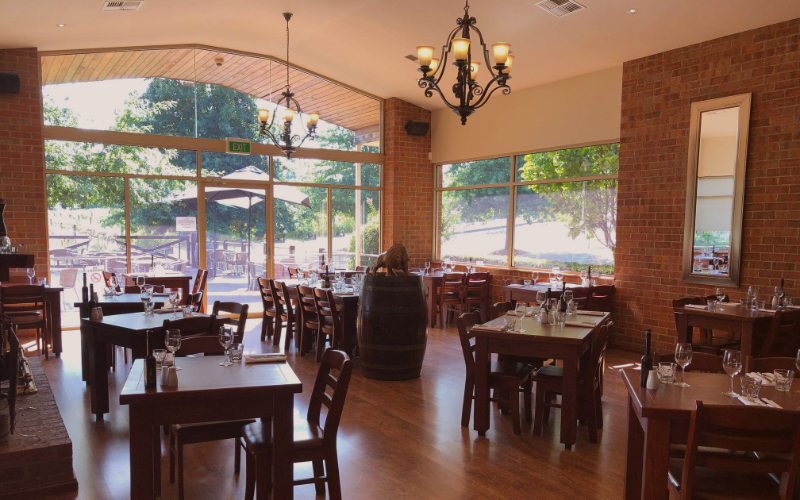 Lunch: 12pm til 2pm  Thursday – Sunday
Dinner: 6pm til 7:30pm – Friday – Saturday

Closed Monday, Tuesday, Wednesday
Larger Groups on an off day, give us a call.


Contact us for more details/bookings.
A La Cart Menu Autum 2021
To Share
Small Plates
Large Plates
Sides
Sweets
Kids
Glossary
To Share
Olives – Local, marinated, Turkish bread (LF)$14
Yarra Valley Paddle – Cured meats, marinated vegetables, local produce & house baked flat bread (Yarra Valley) $32
Small Plates
Large Plates
Sides
Sweets
Kids
Glossary
Sparkling
White
Red
Beer
Yarra Valley Beer & Cider
Cocktails
Non-alcoholic Mocktails
Tea & Coffee
Softdrinks & Juices
Sparkling
Sparkling Pinot Noir / Chardonnay 2013 – $12     $55 
A classic blend of Pinot Noir & Chardonnay. Bottle maturation has produced a fresh, creamy wine with delicate brioche flavours. The palate isfull with a clean, crisp & dry finish.
Moscato Frizzante 2017 – $7.5     $33
Pale pink in colour with a delicate appearance. Fresh & vibrant with lifted aromas of rose petal & 
white peach. Intense flavors of musk spice & boiled sweets lead into a textured palate.

White
Red
Beer
Yarra Valley Beer & Cider
Cocktails
Non-alcoholic Mocktails
Tea & Coffee
Softdrinks & Juices